Graduates fear 'very limited' career prospects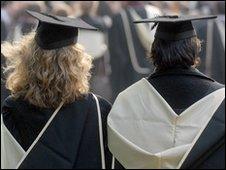 Nearly half (45%) of final-year students at the UK's top universities view their career prospects as "very limited", a survey suggests.
The poll of 16,000 finalists found a third feared last year's graduates would take up most of the vacancies.
One in six said they would not have gone to university if they had known how tough the jobs market was going to be, the research by High Fliers found.
In total, 26% plan further study, 16% plan to travel and 14% are undecided.
The survey of finalists at 30 leading universities found just 36% expected to start or look for a graduate-level job after leaving university this summer.
And 8% intended to take up temporary or voluntary work.
The media, teaching and marketing were the top three graduate career choices for students graduating in 2010 - as they were for 2009.
Applications for jobs in information technology (IT) and engineering were down 5% and 11% respectively on last year.
For the second year running, graduate salary expectations have dropped, with final year job hunters expecting to earn an average of £22,000 for their first job - 3.1% less than in 2008.
Students with the highest salary expectations were law students who expected to earn an average starting salary of £24,800.
Next were computing and IT students, who anticipated an average starting salary of £24,300. Engineering students expected to get £24,300 and business and finance students £23,200.
Finalists with the lowest salary expectations were arts or humanities students who, on average, expected to get a starting salary of £19,700 and those studying languages, who reckoned on salaries of £20,900.
The survey found graduates in 2010 expected to owe an average of £17,900, up from £15,700 in 2009 and £11,600 in 2008.
This could be attributable to the introduction, in 2006, of higher tuition fees for undergraduates at English universities.
Managing director of High Fliers Research, Martin Birchall, said: "Final year students due to leave UK universities this summer are just as pessimistic about their employment prospects as those who graduated 12 months ago.
"The recession may be officially over, but, with a record number of students due to complete degrees in the coming weeks and tens of thousands of last year's graduates still looking for work, there is widespread concern on campus that competition for graduate jobs has never been fiercer."
The students surveyed were from the following universities: Aston, Bath, Belfast Queens University, Birmingham, Bristol, Cambridge, Cardiff, Durham, Edinburgh, Exeter, Glasgow, Lancaster, Leeds, Liverpool, London Imperial College, London King's College, London School of Economics, London University College, Loughborough, Manchester, Newcastle, Nottingham, Oxford, Reading, Sheffield, Southampton, St Andrews, Strathclyde, Warwick and York.
Related Internet Links
The BBC is not responsible for the content of external sites.