NHS London chairman quits over government policy change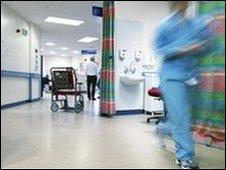 The chairman of NHS London has resigned after stating his vision of healthcare delivery had "little in common" with that of the new government.
In a letter to the health secretary Andrew Lansley, Sir Richard Sykes said he thought his work had made real improvements for Londoners.
Other NHS London board members may also leave, Sir Richard also claimed.
Mr Lansley said he was sorry that Sir Richard did not wish to lead NHS London in developing improvements.
The news follows the government's announcement last week that it was ordering NHS London to scrap its plans for changing the way hospitals and GPs worked in the future.
However, the new government says it wants the plans re-drawn - with more input from patients and doctors.
In his letter, Sir Richard said: "I have reflected on what you said and concluded that our visions of healthcare delivery bear so little in common that it would make no sense for me to continue in this role.
"I am, therefore, writing to give notice of my resignation from this office, with effect from 7 July."
Sir Richard, who was appointed to the role in 2008, also said that he had "relished" the task of delivering change as outlined by the Healthcare for London report.
Responding, Mr Lansley said that the Healthcare for London approach should be to set out a range of innovative and challenging solutions for how to improve quality of care.
He said: "Neither the government nor NHS London should dictate decisions made. The decisions that patients make through choice, and which GPs make through commissioning, should not be pre-empted from on high."
Related Internet Links
The BBC is not responsible for the content of external sites.