Chef who killed wife makes 'scumbag' admission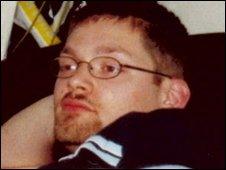 A chef who killed his wife with a griddle pan and hid her body in a freezer for three years has told a jury he "acted like a scumbag".
Peter Wallner said he "lost the plot" after the killing and tried to persuade Melanie Wallner's family she was cremated after dying of natural causes.
He told the Old Bailey he hit the 30-year-old three times in the face at their home in Cobham, Surrey.
Mr Wallner, 34, denies murder but admits manslaughter.
The body of Mrs Wallner was found in a wheelie bin outside their home in Hamilton Avenue three years later.
The prosecution has alleged Mrs Wallner was sleeping when she was attacked because she was found with a sleeping mask over her eyes.
But Mr Wallner, who is German, claimed his South African wife had started a row and then struck him with a rolling pin.
He said he pushed her against a serving hatch and went upstairs but she followed him into the bedroom and tried to strike him with the cast iron pan.
"The next thing I know, in a split second, I can remember grabbing for it, getting it off her and hitting her back in the middle of the face," he said.
He claimed she fell backwards and lay still on the mattress.
"There was lots of blood," he said.
"I really don't know how long I stayed there for. There was no pulse. I believed she was dead.
"I remember running up and down the house pretty aimlessly. For a while I lost the plot.
"I can't possibly put into words what went on. I have been thinking about these five minutes for the last five years and I can't work it out."
He said he had no recollection of the sleeping mask but said he put the body in the shed and cleared up the blood with bleach.
He ordered the freezer which arrived three days later, placed the body in it and locked it in a shed, he said.
"I didn't know what to do. None of this makes sense but I did order the freezer and put her into it. I hardly ever went into that room again."
He then began telling people she had died but gave differing accounts.
"It was out of control," he told the court.
"I could not keep one story straight.
"What I did in these weeks and the following years is not only inexcusable, but I can't even explain it to myself.
"Basically, I have behaved like a scumbag."
He said he carried on relationships with other women but knew what he had done would never go away.
He told the jury that in 2008 he contemplated suicide when he was unable to carry on working.
Related Internet Links
The BBC is not responsible for the content of external sites.