Tamil Tiger child rebels go home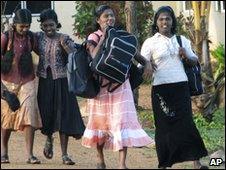 All former Tamil Tiger rebels underage when the war ended last year have been returned to their families and communities, Sri Lankan officials say.
A United Nations agency has confirmed the closure of both the facilities which housed children who had been involved with the separatists.
Since the war ended, the government has been holding around 10,000 former Tamil Tiger members or fighters.
They were captured or surrendered and screened off from ordinary civilians.
The circumstances are controversial because they have been kept at irregular facilities without charge.
A total of 566 of them were 17 years old or younger when detained.
The government says it has given them a complete course of educational or vocational training which will help them catch up with their fellow citizens.
The military official in charge of rehabilitation told the BBC he was "very happy" with their progress and that the schooling facility for them in Colombo had now closed, weeks after the vocational centre housing the other children also shut down.
The UN children's agency, Unicef, has supported the programme and said it will help the young people find work or further studies.
About 50 will now join the mainstream school in which their facility was housed.
The last children to be released were taken to the northern town of Vavuniya to rejoin their families, some of whom are now resettled but some of whom remain in camps in the north.
Adult detainees said to be linked to the Tigers have begun to be released in batches, but thousands remain in camps.
The authorities say they will put a few hundred of them on trial.
Separately, a Sri Lankan government minister told the BBC that legislation is being prepared to issue death certificates for every Sri Lankan killed in the war.
He said this would include civilians, soldiers and rebels, although he did not know how many certificates were yet to be issued.
Relatives will need to give details of death circumstances and it is not yet clear what will be done for the many who simply went missing.
The UN has estimated that the war, which came to an end last year, killed some 100,000 people.
Related Internet Links
The BBC is not responsible for the content of external sites.