Buckinghamshire horse trader arrested after fleeing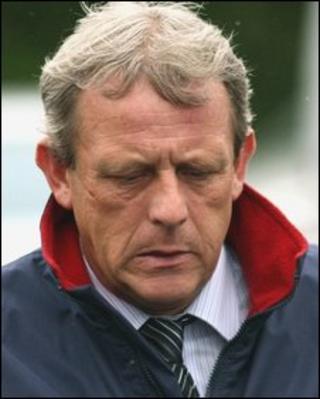 A horse trader who absconded after losing his appeal against his sentence for animal cruelty offences has been arrested.
James Gray, 46, fled a hearing at Aylesbury Crown Court on 12 May after losing his appeal against his 26-week jail sentence.
He had been convicted of neglecting more than 100 animals at Spindle Farm in Amersham, Buckinghamshire.
Gray was stopped by police on the M5 near Bromsgrove, Worcestershire.
He had been travelling between junctions 4A and 5 on the motorway at 1035 BST during random spot-checks.
'Worst case'
Gray will be taken to Aylesbury Crown Court for sentencing on Thursday.
Rob Skinner, chief RSPCA inspector for Oxfordshire and Buckinghamshire, said that the condition of the animals at the farm made it "the worst case of neglect" he had ever seen.
Gray and his teenage son, James Gray Jnr, were found guilty of 11 charges each under the Animal Welfare Act 2006 after a trial last year.
Two of the charges were dropped when they launched an appeal following sentencing last June.
James Gray Jnr, 17, was acquitted on two further charges following the appeal, but all other convictions against him, and his relatives, were upheld.
Gray's wife, Julie, 42, and daughters, Jodie, 27, and Cordelia, 21, had each been found guilty of two animal welfare offences.
All of the Grays were banned from keeping horses, ponies and donkeys following the neglect. Gray was banned for life, with his wife, son and daughters each banned for 10 years.