Verdict not reached in arson case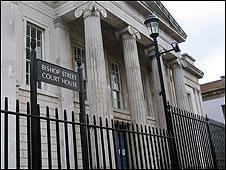 The jury at the trail of a man accused of setting fire to his home in Londonderry has failed to reach a verdict.
Paul Love, 43, denied two charges of arson, after his home at Wesley Street, Londonderry, was set alight in 2008.
Mr Love, who is schizophrenic, was renting the property from the mental health organisation Praxis.
The Public Prosecution Service is to consider whether or not to seek a re-trial.
The jury at the city's Crown Court said it was unable to reach a verdict following a four-day trial.
Two days after the fire in July 2008, Mr Love was detained by police after he was found living rough near the Buncrana Road border crossing.
He was detained under mental health legislation.