Early north Wales bus travel photos sell for £2,800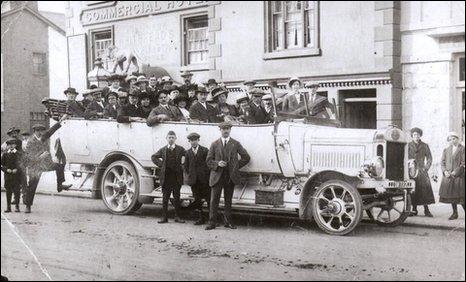 Some 600 photographs of charabancs, omnibuses and coaches carrying tourists to Rhyl and other Edwardian beauty spots in north Wales have been sold.
Rhyl enthusiast John Nickels' collection was bought for £2,800 by the Omnibus Society.
Private collectors from the UK and Europe were among those who missed out at the Colwyn Bay auction.
"I'm delighted to have been able to secure it for the archive," said the society's archivist Derek Broadhurst.
Mr Nickels, who worked for Rhyl council's tourist office, died in 2000 at the age of 80.
His collection of photographic negatives, amassed over his lifetime, had been estimated to sell for between £1,000 and £2,000.
Speaking after the auction, Mr Broadhurst said he thought the collection had been lost.
"I knew John Nickels but, following his death, I feared it had been destroyed or thrown away," he said.
"I'm pleased it has eventually surfaced and I'm delighted to have been able to secure it for the archive rather than it 'lost' by going in to a private collection."
The collection would be available for research and to illustrate articles and books, he said.
"I understand Mr Nickels planned to write a book about the White Rose company - now perhaps someone else will come forward and take on the project," said Mr Broadhurst.
The collection was almost lost after Mr Nickels' death, explained his son Gareth, 47.
"When my brother David and I were going through the collection, we came across a box full of negatives," he said.
"We didn't know what they were and they nearly got thrown out.
"It just goes to show how important it is to get an expert opinion."
Mr Nickels' collection of 200 model buses, many of which he had made himself, sold for an above estimate £400.
Related Internet Links
The BBC is not responsible for the content of external sites.