Rheumatoid arthritis 'on the rise in women'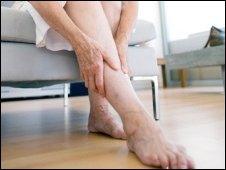 One of the most common forms of arthritis is on the rise among women in the US, according to a study.
Researchers from the Mayo Clinic in Minnesota say rheumatoid arthritis cases rose 2.5% between 1995 and 2007, after 40 years of decline, but fell among men in the same 12-year period,
Rheumatoid arthritis affects around 350,000 people in the UK.
The condition is a form of arthritis which happens when the body's immune system attacks joints.
This causes pain and swelling, which can lead to problems with mobility.
It often starts between 40 and 50 years of age and women are three times more likely to be affected by the condition than men.
The study looked at cases of rheumatoid arthritis in Minnesota between 1995 and 2007.
They examined the medical records of 1,761 residents in Olmsted County.
They found cases of rheumatoid arthritis increased by 2.5% per year from 1995 to 2007, while it fell in men by 0.5%.
Study leader Dr Sherine Gabriel said: "We observed a modest increase of rheumatoid arthritis incidence in women during the study period, which followed a sharp decline in incidence during the previous four decades."
Previous studies have found a link between cigarette smoking and rheumatoid arthritis.
Vitamin D deficiency has also been associated with the development of the condition.
Commenting on the work, published in the journal Arthritis and Rheumatism, Ailsa Bosworth, Chief Executive of UK charity the National Rheumatoid Arthritis Society, said the findings were a concern.
She said: "I would like to assure people living with rheumatoid arthritis that in the last 10 years due in part to the use of biological therapies and tighter control of the disease at an earlier stage that more and more people with this long-term condition are managing to stay working and live very full productive lives.
"However more definitely needs to be done to raise public awareness of rheumatoid arthritis and that people raise their risk of developing the disease if they smoke."
Related Internet Links
The BBC is not responsible for the content of external sites.