Volcanic ash cloud 'costs Manchester Airport £10m'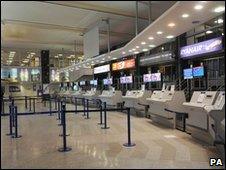 Manchester Airport says the disruption caused by the volcanic ash cloud has cost it at least £10m.
More than 3,000 flights at the airport have been affected by ash from the Icelandic volcano and bosses fear the losses could continue to rise.
In total the Manchester Airports Group - which also runs East Midlands, Bournemouth and Humberside airports - says it has lost upwards of £15m.
In its last set of accounts the group recorded operating profits of £78.4m.
"It's a large amount and, if you think about it, this is our busy summer season," said spokesman John Greenway.
"We've still got about four months of summer left, we can still have a strong summer.
"We just need to make sure there is no more travel disruption, that we start to see long-term bookings return to normal."
However, he conceded that senior managers expected the level of losses to rise above £15m if the ash cloud returned.
"That is a rough estimate for what we lost during that period, it could happen again - that is something that's in the back of our mind."
Related Internet Links
The BBC is not responsible for the content of external sites.