Student nurse battles illness to become lifesaver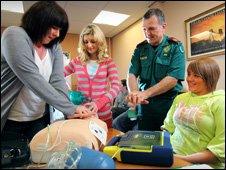 A student nurse has overcome her own health problems to become a volunteer lifesaver for the Welsh Ambulance Service.
Katie Gibby, 28, from Rhondda, has had two major bowel operations and spent months in hospital with MRSA.
Following an appeal by the ambulance service she volunteered to be a first responder, providing medical help while patients wait for an ambulance.
She said she joined the scheme to make "a difference".
Ms Gibby suffered from colitis, and hospital treatment kept her away from her eight-year-old son, Connor, for long periods of time.
She said: "I had a bit of a life check when I was in hospital and wanted to be able to look back and be able to say that I had made a difference to people - that's one of the most important things.
"I've been in and out of hospital since 2005 and I was away from my son for such a long time which was dreadful but I was never going to let that illness beat me and now I am illness-free now and I can start to win."
She responded to an appeal from the Welsh Ambulance Service and was one of more than 20 people who attended a public meeting in Gilfach Goch earlier this year.
Now trained, she will join the Rhondda Cynon Taf First Responders.
Encouraging others to follow her example, she added: "You don't have to be a doctor, you don't have to be brilliant, you just need to learn the basics - it's not hard to do - and then you can make a difference to someone."
Related Internet Links
The BBC is not responsible for the content of external sites.