US police chiefs pan Arizona immigration law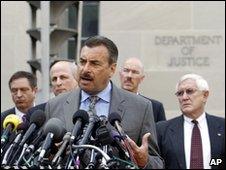 A group of US police chiefs has told US Attorney General Eric Holder that Arizona's controversial immigration law could increase crime.
The law requires police officers to question people about their immigration status during a "legal stop", if the officers have reasonable suspicion the person is in the US illegally.
The chiefs said it would take resources away from the fight against crime.
They warned it would break down trust between the police and the community.
In an hour-long meeting with the US attorney general, nine police chiefs expressed their concern over the controversial law due to come into effect in Arizona on 29 July.
A joint Wall Street Journal/NBC poll conducted at the beginning of May suggested 64% of adults backed the measure.
Fifteen states are now considering adopting similar laws.
Los Angeles Police Chief Charlie Beck said such laws would "actually increase crime, not decrease crime. Witnesses won't come forward."
He said checking people's immigration status would break down the trust police forces had been building with communities for decades.
Salt Lake City Police Chief Chris Burbank said he felt the law would "divert our resources away from things we're supposed to be doing - that is, fighting crime and providing safety of local communities".
Minneapolis Police Chief Tim Dolan said immigrants could become too scared to call the police to report a crime for fear of having their immigration status checked.
US President Barack Obama has been critical of the Arizona law and has asked Attorney General Holder to look into the possibility of filing a court challenge against it.
Related Internet Links
The BBC is not responsible for the content of external sites.