Ballymena councillor William Wilkinson guilty of rape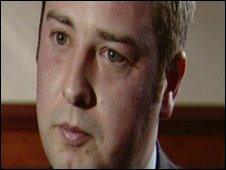 A Ballymena councillor has been found guilty of raping a woman in her home.
William Wilkinson, 33, of Tully Road in Portglenone, was convicted at Antrim Crown Court on Thursday.
It came a day after he was found guilty of the attempted rape in August 2008 of the woman, who was described as "a casual acquaintance".
A United Unionist Coalition councillor, he originally held a council seat for the DUP but left the party three years ago.
Wilkinson had claimed the woman consented to sex but made a 999 call after falling out with him because of his drinking.
The court heard Wilkinson had more than 20 injuries to his face and body which were consistent with scratch marks caused by someone's nails.
The jury agreed that rather than these injuries being inflicted during a drunken row, the woman was fighting him away in self defence.
Wilkinson was remanded in custody and will be sentenced next month.