Mature student quizzed over Bradford women murders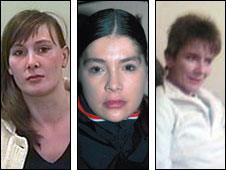 A 40-year-old man, thought to be a PhD criminology student, is being questioned about the murders of three women in Bradford.
The man in custody - believed to be Stephen Griffiths - was arrested on suspicion of killing Suzanne Blamires, 36, who was last seen on Friday.
He is also suspected of killing Shelley Armitage, 31, and Susan Rushworth, 43. All three women were sex workers.
CCTV footage is understood to be playing a major part in the inquiry.
Detectives have been granted extra time, until Thursday evening, to question the suspect who was arrested at an address in Bradford on Monday.
Officers, accompanied by specially-trained sniffer dog teams, have been searching a number of buildings, some of them in the Chain Street area of Bradford's red light district.
Police are expected later to formally name the woman whose body parts were found on Tuesday in the River Aire in Shipley.
She is expected to be confirmed as Ms Blamires who lived on Barkston Walk, Allerton, in Bradford.
Ms Armitage, also from Allerton, has been missing since 26 April and Ms Rushworth, from the Manningham area of the city, has not been seen since June 2009.
Police are also investigating possible links to the case of Rebecca Hall, a 19-year-old who worked as a prostitute in the city and was killed in 2001.
Her body was found in the Allerton area not far from the homes of Ms Blamires and Ms Armitage.
Assistant Chief Constable Jawaid Akhtar confirmed the remains found on Tuesday belonged to one person.
He described the investigation as a "thorough and painstaking inquiry into three missing people who are sex workers, with all the necessary resources and expertise devoted to it".
He added: "The families of Suzanne, Shelley and Susan are all being supported by our family liaison officers as the inquiry progresses."
Earlier this month West Yorkshire Police started a poster appeal to try to trace Ms Armitage who was last seen in Rebecca Street in Bradford city centre.
At the time detectives described her as "a much-loved daughter and sister" and said her family were growing increasingly concerned for her welfare.
Ms Rushworth, a mother-of-three who is known as Sue or Susie, was last seen near her flat at Oak Villas, Manningham.
At the time of her disappearance police said she suffered from epilepsy, had never been missing before and had been getting help for her heroin addiction.
Ms Rushworth's son James, 23, appealed for information, saying: "We are all very worried about her.
"We're a close family and we're not coping very well with her disappearance.
"There is no reason that she would have just left. She's only recently started seeing her grandchildren and was getting to know them."
Mario Demski who works at a residential home on Oak Villas, said Ms Rushworth had visited several residents at the home.
"She lived just over the road. Residents have recognised her face in the paper and been very concerned."
Related Internet Links
The BBC is not responsible for the content of external sites.