Japan starts trial of activist who boarded whaling ship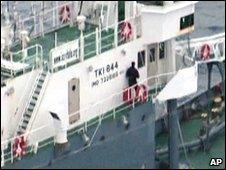 The trial of an anti-whaling activist detained in the Southern Ocean during clashes with Japan's whaling fleet has opened in Tokyo.
Peter Bethune from New Zealand, a member of the Sea Shepherd Conservation Society, boarded a ship in February.
He pleaded guilty to four charges, including trespass and obstructing commercial activities, but denied a fifth charge of assault.
If convicted he could receive a maximum sentence of 15 years in prison.
"Regarding the assault charge, I deny the charge," he told the Tokyo District Court.
He is alleged to have injured a Japanese crew member by throwing a butyric acid stink bomb.
"For the disruption of business, I admit that I fired the butyric acid but there were additional circumstances that we will discuss in court," he said.
This is the first time an anti-whaling protestor has been brought to Japan for trial.
The charges stem from clashes between the Sea Shepherd Conservation Society and Japan's whaling fleet in the waters off Antarctica, says the BBC's Roland Buerk in Tokyo.
The New Zealander was the captain of the Ady Gil, a futuristic kevlar boat which was sliced in two in a collision with a harpoon ship in January and sank.
The following month he boarded the ship, the Shonan Maru 2, from a jetski.
Sea Shepherd said his intention was to perform a citizen's arrest on her captain for the attempted murder of his crew, and present a bill for the lost boat.
But instead he was detained himself and the Shonan Maru 2 set sail for Tokyo where Mr Bethune was arrested by Japan's Coast Guard.
Commercial whaling has been banned worldwide since 1986.
Japan justifies its hunt as scientific research, while not hiding the fact that whale meat ends up in restaurants and shops.
Related Internet Links
The BBC is not responsible for the content of external sites.