From shrimp fisher to oil-collector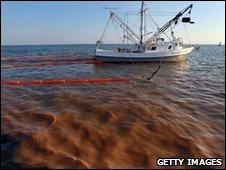 We woke this morning to thunder and heavy rain.
Through the window of the waterside condo where we are staying we could see lightning flash down from the leaden sky. Hardly the tourist playground Grand Isle, Louisiana, would like to be thought of as.
To an outsider, the sea looked to be at an uncomfortably elevated level. It made me wonder what it might have been like when Hurricane Katrina ripped through here.
All along the quayside, fishing boats bobbed high in their moorings.
Of course none of them can fish right now. Thousands of square miles of Gulf fishery has been closed for weeks.
Later we saw how some fishermen are making money: the shrimp nets that usually dangle from metal arms on their boats have been replaced by orange plastic booms.
After the storm a small flotilla headed out through a channel from Grand Isle towards the latest position of the oil in the Gulf.
BP is hiring local people and adapting their vessels to be part of the clean-up. Once they find oil, they lower the metal arms and scoop together as much as they can on the surface before other vessels come and siphon it off.
We saw that the cargo they carry home is not seafood but large plastic bags stuffed full of filthy, greasy, sticky, brown oil-soaked absorbent boom.
The sides of all the boats we passed were streaked rust-brown: this was oil. Normally these boats would be freshly painted at this time of year, just when the fishing season is unfolding.
We were travelling with the Louisiana Department of Wildlife and Fisheries and our guide Nick was careful to steer between dark stormy cloud masses that hovered low over the sea.
One particularly ominous-looking patch, he told us, was a tornado that shot water spouts into the air, along with any oil. Occasionally rain spattered us for a few seconds and Nick steered away from it, out of the storm.
Weather systems like the one we encountered cause particular problems for the clean-up.
Boats must wait till the weather clears before they can get back out to work; boom laid in the shallows gets moved out of place by choppy seas; high winds and waves break up the oil further and can spread it more widely and even more unpredictably.
The boats we saw had to motor further from shore because oil patches they found yesterday had been moved by today's storm.
And do not forget hurricane season officially starts on 1 June.
What we did see were long lines of small red-brown spots in the water, almost like soft pellets. This, our guide Nick told us, was an area where the skimming boats had already been. What they had been unable to capture were these small tiny globules of oil that had been treated with dispersant.
Nearby a school of dolphins darted in and out of view.
Nick's job now as an enforcement officer is to report the sighting back to base so a clean-up vessel can come out again and try to scoop up these traces.
But they are so small that you could easily miss them and in the huge Gulf it would be impossible to remove all of them.
Even if BP's "top kill" works, oil has already polluted the sea.
Nobody yet understands its long-term impact but the US government says it will not rest until the clean-up is complete. But that could take a very long time.
Related Internet Links
The BBC is not responsible for the content of external sites.