DeWyze beats Bowersox to win American Idol contest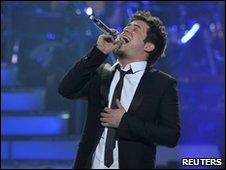 Illinois paint shop assistant Lee DeWyze has won the ninth season of the American Idol talent contest.
He overcame his shyness to impress judges and viewers with his spirit and soulful voice, beating bluesy musician and judges' favourite Crystal Bowersox.
"I have never been happier in my life," he said after scooping the title and a recording contract which will launch with his version of U2's Beautiful Day.
The finale also made the most of Simon Cowell's last appearance as a judge.
DeWyze's victory was based on votes cast after Tuesday's performance show, which drew more judges' compliments for Ohio's Bowersox.
Cowell was treated to a film package recounting highlights from his career.
"You have the honesty of Abe Lincoln and the charm of the guy who shot him," comedian Dane Cook told the smiling British judge.
"I didn't think I was going to be this emotional and I genuinely am," Cowell said on stage, turning to the audience.
"Everybody asks who's going to replace me, who going to be the next judge. The truth is, you guys are the judge of this show and you've done an incredible job over the years."
Related Internet Links
The BBC is not responsible for the content of external sites.