Taiwan iPhone-maker Foxconn suffers another death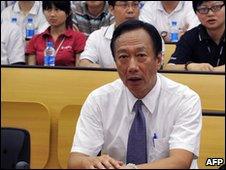 Another suspected suicide has occurred at a factory in China, the latest in a string of deaths at the plant this year, state media reports.
Xinhua said the male employee jumped to his death hours after a media tour at the plant owned by Taiwan firm Foxconn.
The firm manufactures mobile phones and electronic equipment for top brands including Dell computers and Apple.
The death would be the 10th suicide at the plant this year - two other people have survived similar falls.
One man was also reported to have killed himself at another Foxconn plant in Hebei province earlier this year.
On Thursday, another employee in Shenzhen attempted to kill himself by cutting his wrists but survived after medical attention, said Xinhua.
The Foxconn plant in Shenzhen employs more than 400,000 people.
Police officials said the man who died on Wednesday was a 23-year-old from Gansu province, who had been working at the plant for about a year.
Witnesses said he had jumped from the seventh floor of a dormitory building, Xinhua reported.
The death came just hours after the chairman of Foxconn, Terry Gou, one of Taiwan's most famous businessmen, took reporters around the vast Shenzhen plant.
Mr Gou apologised repeatedly, and said he had trouble sleeping but would not stop trying to solve the problem.
"We need some time," he said. "But we are confident. We are extremely determined."
The company is training counsellors and has provided leisure facilities for the workers. It has also put up nets around the buildings.
"Although this seems like a dumb measure, at least it could save a life should anyone else fall," said Mr Gou.
Labour activists in nearby Hong Kong have criticised alleged poor conditions at the factory and called for a symbolic boycott of iPhones in protest.
The activists claim shifts at the plant are long, the assembly line moves too fast and that managers enforce military-style discipline on the workforce.
Foxconn points out that despite the bad publicity, each day around 8,000 people still apply to work at the factory.
Companies which commission work from the plant have said they are concerned by the reports.
Sharon Zhang, a spokeswoman for Dell, told the AFP news agency the company was investigating the reports.
"Any reports of poor working conditions in Dell's supply chain are investigated and, if warranted, appropriate action is taken. We expect our suppliers to employ the same high standards we do in our own facilities," she said.
Hewlett Packard said it was "investigating the Foxconn practices that may be associated with these tragic events".
Apple, whose iPhones are made at the plant, said it was "deeply committed to ensuring that conditions throughout our supply chain are safe and workers are treated with respect and dignity".
Apple has said it will evaluate what Foxconn is doing to address the problems and continue ongoing inspections of the facilities where its products are made.
Related Internet Links
The BBC is not responsible for the content of external sites.