Japan exports soar 40% on car and semiconductor demand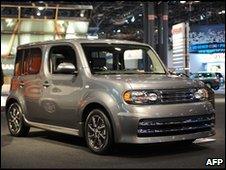 New trade figures have offered further evidence of Japan's continuing export-driven recovery.
Exports in April jumped 40.4% from a year earlier to 5.9 trillion yen ($65bn; $45bn), marking the fifth straight monthly year-on-year increase.
Exports were boosted by global demand for Japanese cars and semiconductors.
And exports to other parts of Asia, which account for more than half of Japan's total exports, rose 45.3% from a year earlier.
"Exports remain very firm even after very strong growth in January to March," said Azusa Kato, an economist at BNP Paribas in Tokyo.
"The pace of export growth will slow in April to June, but we expect exports to continue to expand."
Shipments to the EU were up by 19.8% from a year earlier, slowing from a 26.7% gain in March but again marking a fifth straight month of year-on-year increases.
Shipments to the US were up 34.5%, helped by strong demand for Japanese cars.
Overall, car exports more than doubled from a year ago to 775.2bn yen, and semiconductor deliveries were up 35.5% at 366.7bn yen.
"The figures underlined a steady recovery in the global economy," said Hiroshi Watanabe, economist at Daiwa Institute of Research.
"It is heartening to see Japanese car exports sharply up in every key region."
Last week, figures showed that Japan's economy had grown by 1.2% between January and March from the previous quarter, the Cabinet Office said.
Emerging Asian markets such as China have been driving Japan's economy and allowing what the International Monetary Fund has called a "tentative" recovery from recession.
Related Internet Links
The BBC is not responsible for the content of external sites.