Lehman sues JP Morgan for damages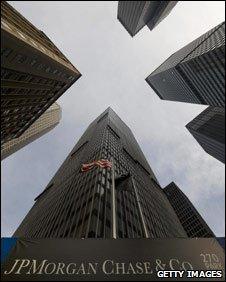 Lehman Brothers Holdings is suing JP Morgan Chase to recover tens of billions of dollars in "lost value".
Lehman claims JP Morgan "siphoned off" billions of dollars of assets in the days leading up to its bankruptcy.
JP Morgan was Lehman's main short-term lender before its September 2008 collapse. It is accused of contributing to the failure by demanding $8.6bn of collateral as credit markets tightened.
JP Morgan has called the lawsuit "ill-conceived".
The lawsuit, filed in Manhattan, New York, accuses JP Morgan of using its "unparalleled access" to inside details of Lehman's distress to demand the cash in the four business days ahead of Lehman's collapse.
The complaint claims that JP Morgan knew Lehman's viability was weakening, and threatened to deprive Lehman of critical clearing services unless it posted a large amount of collateral.
"On the brink of LBHI's bankruptcy, JP Morgan leveraged its life and death power as the brokerage firm's primary clearing bank to force LBHI into a series of one-sided agreements and to siphon billions of dollars in critically needed assets," Lehman said in the complaint.
"With this financial gun to Lehman's head, JP Morgan was able to extract extraordinarily one-sided agreements from Lehman literally overnight.
"Those billions of dollars in collateral rightfully belong to the Lehman estate and its creditors."
Related Internet Links
The BBC is not responsible for the content of external sites.