Benjamin Netanyahu to meet Barack Obama in US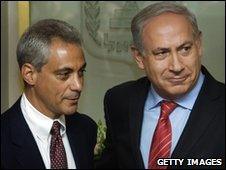 Israel's Prime Minister Benjamin Netanyahu has accepted an invitation to visit Washington next week to meet US President Barack Obama.
The invitation was made by White House Chief of Staff Rahm Emanuel on a trip to Jerusalem.
The meeting will be the first time President Obama and Mr Netanyahu have met since March when relations were strained between the US and Israel.
The meeting is regarded as an attempt to push stalled peace talks forward.
A recent round of indirect "proximity talks", mediated by US senator George Mitchell ended without apparent progress.
Mr Netanyahu's last visit to Washington in March was overshadowed by the collapse of US efforts to launch the proximity talks.
An Israeli announcement that it would build new homes for settlers in an area of occupied East Jerusalem, during the visit to the country of US Vice-President Joe Biden, led to the Palestinians withdrawing from the talks.
Angry criticism of Israel by US officials followed. The spat was described at the time as the most serious crisis in US-Israeli relations in decades.
The Whitehouse has also announced Palestinian Authority President Mahmoud Abbas will visit in June.