Harry Potter stars sad as filming ends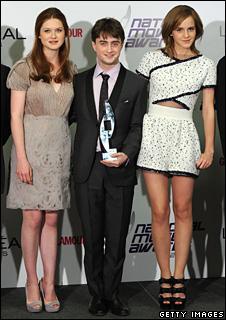 Harry Potter star Emma Watson has spoken of her upset that the film franchise is coming to end.
"I feel like someone's dying, it sounds like an exaggeration but I really do," said the actress, who has played Hermione in all seven Potter films.
Attending the National Movie Awards, the cast and producers revealed they were in the last two weeks of filming.
The final film, Harry Potter and the Deathly Hallows, comes out in two parts in November 2010 and July 2011.
The Potter series received a special recognition award at the ceremony in London on Wednesday, as well Half-Blood Prince winning the prize for best family film.
"None of us could ever say we predicted this kind of love and recognition," said Watson. "Just watching the compilation of all the past films was really emotional for me."
She added: "I'm actually not planning to do a lot this summer. I'm just going to need a bit of time to collect myself up and get myself back together a bit."
Watson was named Hollywood's highest paid female star of last year by Vanity Fair magazine.
Daniel Radcliffe, who has played Harry Potter since the age of 11, said: "I'm going to be devastated to some degree. It's going to be very sad because it's been such a part of my life."
He added: "It's the end of chapter and it puts a pretty nice punctuation mark on my adolescence."
Radcliffe said he was preparing for his role next year in Broadway musical How To Succeed in Business Without Really Trying.
"I'm fighting to learn how to dance and sing at the moment... I'm doing what work I can, when I'm not filming, which obviously takes precedence at the moment."
Potter producer David Heyman said that after spending 10 years together, the cast and crew were like a family.
"As Emma said, there's an element of real sadness because this close-knit group is going their separate ways, but we are all excited by the opportunities and challenges that lie ahead."
Related Internet Links
The BBC is not responsible for the content of external sites.