Sandra Bullock to receive MTV honour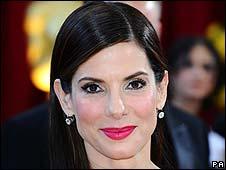 Actress Sandra Bullock will make her first public appearance since splitting from her husband Jesse James at next month's MTV Movie Awards.
The 45-year-old will be honoured with the MTV Generation Award at the event, to be held on Los Angeles on 6 June.
The award, said MTV, was for Bullock's "diverse contributions to the film industry... over the last two decades".
Earlier this week James spoke publicly about the break-up, saying cheating on his wife had made him feel "horrible".
Reports of James's affair with tattoo model Michelle McGee surfaced days after Bullock won her best actress Oscar on 7 March.
The reality TV star later apologised, saying he was "truly very sorry for the grief" he had caused his wife and family.
In an interview with ABC's Nightline broadcast on Tuesday, Bullock's estranged husband broke down in tears and blamed his affairs on a troubled childhood.
"My whole childhood, I never had a chance to be a kid," he said, alleging his father had beaten him "a bunch of times".
James, 41, claimed his wife had suspected him of infidelity but that he had "lied [his] way out of it".
"I knew I would get caught eventually, and I think I wanted to get caught," he told the US current affairs programme.
Bullock and James separated in March after five years of marriage. Divorce papers were filed the following month in Austin, Texas.
James's father Larry has denied his son's allegations of abuse.
Related Internet Links
The BBC is not responsible for the content of external sites.