London launches low carbon Green Enterprise District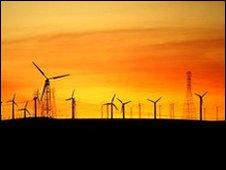 A "Green Enterprise District" spreading six east London boroughs is to be created to help the city be a "global leader in the low carbon economy".
London Mayor Boris Johnson has said the scheme will create 6,000 jobs and help regenerate one of the most deprived areas of the capital.
The project hopes to use undeveloped industrial land to attract up to £140bn of investment.
A £30m exhibition centre will also be built by technology firm Siemens.
The Siemens Pavilion in the Docklands will be a permanent showcase for sustainable technologies and it will house 230 employees when it opens in 2012.
The district will cover the boroughs of Hackney, Tower Hamlets, Newham, Waltham Forest, Barking and Dagenham and Havering.
It will hope to attract organisations active in the low carbon sector
These include waste management, recovery and recycling, renewable energy, and emerging low carbon technology companies.
Early findings by the London Development Agency - the mayor's business wing - show the low carbon marketplace could attract between £40bn to £140bn of investment into the capital.
Mr Johnson said: "A century ago, we were cashing in on carbon, yet now there are clear economic opportunities coming from getting rid of it.
"I want London to be ahead of the queue, grasping a significant share of the jobs and economic booty arising from this new generation of low carbon goods and services."
Related Internet Links
The BBC is not responsible for the content of external sites.