John Swinney and Elizabeth Quigley expecting baby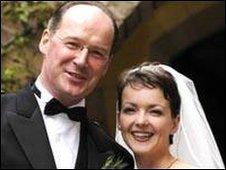 Scottish Finance Secretary John Swinney and his wife, Elizabeth Quigley, are expecting their first child.
The MSP for North Tayside had been dating BBC journalist Ms Quigley for two years before they married in 2003, when Mr Swinney was leader of the SNP.
Ms Quigley, 38, who has multiple sclerosis, has written on and made a television documentary about the condition.
Mr Swinney has two children from a previous marriage.