Eurovision hit by financial worries as countries quit
By Mark Savage
BBC News entertainment reporter in Oslo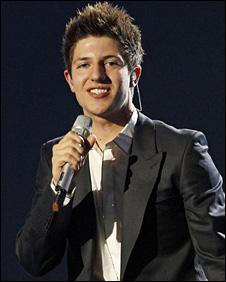 Several countries had to pull out of this year's Eurovision Song Contest because they could not afford to take part, organisers have confirmed.
Hungary, Andorra, the Czech Republic and Montenegro all withdrew from the 2010 contest in Norway's capital Oslo.
"Of course the economic crisis is affecting us," Eurovision producer Svante Stockselius said on Wednesday.
"We have fewer countries competing this year and they all withdrew for the same reason - budget cuts."
Acts from Israel, Azerbaijan and Ireland are among those performing in the second semi-final later.
Seven countries will be eliminated after the show, while 10 will go through to Saturday night's final.
Financial considerations have also affected the staging of this year's contest.
Norway's main broadcaster NRK has spent 200 million Kroner (£21m) on the show, at the expense of the rest of its output.
"NRK had to make some really tough choices," its spokesman Peter Svaar told the BBC.
"200 million Kroner is a lot of money for a comparatively small broadcaster.
"We had to scale back on production of TV drama, other entertainment shows [and] sports rights to be able to afford this."
Even so, NRK is spending £7m less than Russia did last year.
The 2009 final in Moscow used 30% of the world's entire stock of LED screens and provided memorable interval acts that included the Red Army Ensemble, a Cirque du Soleil-style acrobatic troupe and a gigantic pink tank.
According to Eurovision expert Karen Fricker, budgetary restrictions have resulted in a more modest stage show this year.
"What NRK are trying to do is be innovative and creative, and a bit more minimalistic," she said.
"I think it's working, in that what they're doing with limited lighting effects and drapes is making each act look distinctive and giving each an individual presence on stage.
"It isn't quite as much about throwing money at it."
But there is no getting away from the fact that hosting Eurovision is an expensive business.
Indeed, Norwegian newspaper Aftenposten claimed that NRK would refuse to produce next year's show if their entrant, Didrik Solli-Tangen, won on Saturday.
Three decades have passed since the winning nation declined to host the following year's contest.
On that occasion, the Netherlands stepped in after Israel, winners of the 1979 contest, chose not to participate in the 1980 event.
Yet the practice was more common in the 1960s and 1970s when the BBC took over the reins on four occasions.
NRK director general Hans-Tore Bjerkaas has acknowledged it would "extremely difficult" for Norway to organise the event two years running.
However, he added, NRK would "negotiate a solution" with the European Broadcasting Union (EBU) if it found itself in that situation.
Speaking on Wednesday, Mr Stockselius also played down concerns over the funding of the 2011 contest.
"It's in the rules that if you participate, you must be able to host the contest," he said.
He added that Greek broadcaster ERT attracted sponsorship when it ran the competition in 2006 and "earned money".
"So it could be a benefit to host the Eurovision Song Contest if the time is right," he continued.
NRK's Peter Svaar said the Norwegian broadcaster was already experiencing practical benefits from this year's show.
"We have had the chance to work with one of the best lighting designers in the world, we are using cutting edge graphics technology," he said. "The whole organisation is learning every day.
"The technical knowledge will stay with us when all of the feathers and the extravaganza of the final have left."
Related Internet Links
The BBC is not responsible for the content of external sites.