Highlands Astronomical Society swapping night for day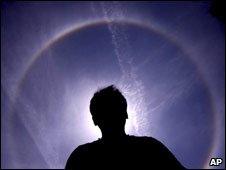 New equipment has allowed a group of amateur astronomers to continue stargazing through the summer.
Highlands Astronomical Society (HAS) usually winds up meetings at the end of spring due to lighter nights.
But with a new telescope and by using safe methods, HAS is running sessions observing the Earth's nearest star - the Sun.
The Solar Saturday afternoons are being held at its observatory at Culloden Battlefield, near Inverness.
In February, the BBC Scotland news website reported experts' forecasts of the Sun stirring after a period of low activity.
Increased eruptions from the Sun - including solar flares - were also expected to make the aurora borealis, also known as the Northern Lights, a more frequent event.
Related Internet Links
The BBC is not responsible for the content of external sites.