Youngest Everest climber hopes to inspire young people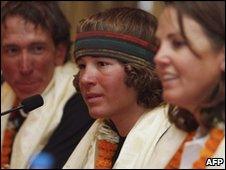 The youngest person to climb Mount Everest says he hopes his achievement will inspire young people around the world to get out and exercise.
American teenager Jordan Romero, 13, has just returned from the north side of the mountain.
He said he hoped other children would follow his example.
The teenager successfully made it to the top of the mountain on Saturday, accompanied by his father, stepmother and three Sherpa guides.
Looking sunburnt but healthy, Jordan Romero said it was a feeling like no other to stand on the summit of Mount Everest.
He said it was the hardest climb he had ever undertaken.
His team had faced winds of over 100km as they made their final 14-hour push from camp two on the north side of the mountain to the summit.
Jordan said he decided to conquer Mount Everest after seeing a mural of the world's seven highest summits in his school hallway.
Although he has been criticised for being too young to cope with the high altitude, Jordan said he hoped his climb would be an inspiration to young people around the world.
"Age really doesn't matter. If I could do it at 13 then anybody else could, you know, as long as other people just put their hard work and effort into it… and other kids my age, I'm doing this to set an example for them."
Jordan's father Paul Romero also rebutted criticism that he had forced his son into climbing the mountain, saying that he had merely enabled him to accomplish his dream.
He said his team had spent over a year preparing for the climb and researching every scenario.
Mr Romero said when he was close to the summit of Mount Everest he began to cry when he realised his son was going to make it.
He said he hoped Jordan's achievement would encourage other parents to exercise with their children.
"We live a life in the US where childhood obesity is at epidemic level. It's from people who are patting their kids and sticking the remote control in their hands and completely overfeeding them.
"Now I'm not saying everyone should take their kids to Mount Everest, that's for sure, but I think kids should be enabled to pursue giant goals."
Jordan said he now planned to spend the summer climbing the highest peaks in 50 American states.
He then intends to return to Nepal to climb the mountain Cho Oyu, before skiing back down it.
Related Internet Links
The BBC is not responsible for the content of external sites.