Scott of the Antarctic objects sell for £75,000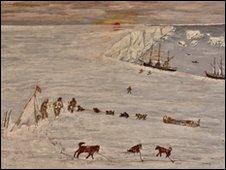 Objects from Scott of the Antarctic's ill-fated 1910 South Pole expedition have sold for £75,000 in Derby.
Items sold above estimate, with a watercolour of Scott's ship, which had been predicted to sell for £200, selling for £8,350.
The collection came from Jackie Church, of Derby, whose grandfather Edward McKenzie went on the expedition.
The auctioneers said there was interest from as far as Azerbaijan and New Zealand.
A journal which records Scott's death, written by Mr McKenzie, who also painted the watercolour, was bought for £7,500.
Auctioneers were surprised by level of interest, as they had expected the items to fetch about £30,000.
Alan Judd from Bamfords Auctioneers said: "It was a unique collection.
"I've never had a reaction like it, and as an auctioneer it was the most enjoyable auction of my career."
Mr McKenzie, along with other crew members, remained behind while Scott and four other men travelled to the South Pole.
While Scott and his companions died on their return from the pole, Mr McKenzie survived the voyage and passed on the objects he had collected to his family.
Other notable items in the auction included a compass which sold for £4,350 and a wood carving of the ship which went for £4,600.
Auctioneers were unable to say who had bought the items, or where the new owners lived.
Related Internet Links
The BBC is not responsible for the content of external sites.