Dudley police officers to get Tasers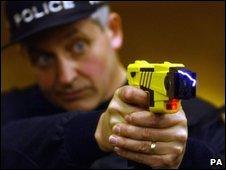 Some frontline West Midlands Police officers in Dudley are to be issued with Tasers from Thursday, the force said.
Up to 28 officers will join others in Wolverhampton, Walsall and Coventry, who have been using the equipment for several months.
Tasers have been used 93 times by firearms officers in the West Midlands since their introduction in 2004.
They use an electrical current to temporarily stun a suspect.
New police guidelines released at the end of 2009, stated that tasers were to be issued to specially-trained police constables for use in strictly-controlled situations, the force said.
"Until now, firearms officers and the Operations Support Unit (OSU) have been allowed to deploy the tasers in Dudley, but the change means a small number of officers locally will have 24-hour access to the equipment if they need it once directed by," a spokesman said.
"It is now widely regarded as a 'reduced risk' alternative to the metal batons and CS sprays used by officers."
Dudley police commander, Ch Supt Keith Baldwin, said he anticipated a "minimal use" of the stun gun.
"My officers have undergone extensive training in how and when to use the Taser and their supervisors have also been trained in which situations it should be issued under," he said.
Related Internet Links
The BBC is not responsible for the content of external sites.