Brain gain: African migrants returning home
Africa may still be suffering from a chronic brain drain but some of the continent's elite are turning their backs on the West and taking their talents back home according to film-maker Andy Jones.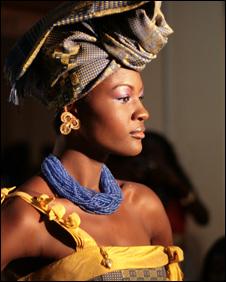 The story is as old as the hills. Man leaves village to seek riches in the big city.
In recent years, the village has been the continent of Africa, the city represented by the bright lights of Europe and America.
Any number of Africans seek to cross the ocean and make their fortunes, never to be seen again.
But when our team travelled around Africa recently to film a new TV documentary series, we found a different story. Many of the Africans I met had worked or been educated in the West and come back.
Across nine African countries and a journey of 7,000 miles from Mali to South Africa, from Ghana to Ethiopia, the story was often the same. Africans were returning from working or studying abroad either for patriotic reasons or because of the growing opportunities back home.
These were educated Africans like Kofi Ansah, a Ghanaian fashion designer. Born into an artistic family, he studied fashion at Chelsea School of Art before graduating with first class honours in 1977. He spent 20 years living and working in Europe before returning to Ghana in 1992.
Mr Ansah still travels the world, and could live anywhere, but his business is growing, his family are settled and he feels like he's making a difference in Accra. "I came to help try to develop the clothing textile industry. And I thought, if we could do it right, it could help our employment situation."
Mr Ansah now creates jobs for tailors and designers, models and marketers.
At one of his fashion shows, we met make-up artist Nana Amu Fleisher-Djoleto who grew up in London. Her view is that not only are more people returning, but they are coming home sooner.
"I'm finding now that younger people want to go away maybe to university, but then come back after gaining some experience. They're not working for years and coming back when they're decrepit."
For decades, African leaders have complained of a brain drain, losing many of their brightest and best to Western countries keen to attract highly skilled migrants.
This brain drain cannot be stopped or reversed according to Jean Phillipe Chauzy at the International Organisation for Migration (IOM). But he sees other factors at play in Africa's favour.
"The fundamental difference is new technology allowing African professionals in the West to transfer their skills and do some teaching," says Mr Chauzy.
It is a relatively new trend with digital technology allowing African academics and other professionals abroad to support African universities, schools or individuals back home to bridge the skills gap with the West.
He also sees "a pattern of mobility for people with skills" with greater global mobility allowing "countries which have the right conditions" to attract skilled professionals home either temporarily or permanently.
A recent IOM report on Ghana highlighted its "relative peace, security and political stability" and found "growing incidence of return or circular migration".
"Of the more than 1.1 million Ghanaians who left the country between 2000-2007, only 153,000 did not return either temporarily or permanently."
For many returnees including former World Bank senior economist Eleni Gabre-Madhin, loyalty and the desire to give something back is an important motivation for returning.
Her brainchild is the Ethiopian Commodity Exchange, which began trading in 2008 and which she hopes will make a difference to the lives of millions of farmers.
"I'd spent years doing analysis and writing, but then the food crisis hit in 2003, and it made me think, OK we're talking about things, but we're not doing anything."
The new exchange, owned by the Ethiopian government and supported by the World Bank, trades in six commodities including coffee, produced by around 12 million small-scale farmers in Ethiopia.
While deals are still sealed with a traditional slap of hands, cutting edge technology ensures that all transactions are logged on computers within four seconds, with prices transmitted across the country by radio and around the world via the internet.
The farmers benefit by being guaranteed a good international market price, preventing exploitation by middlemen and they get paid within 24 hours.
The first two years have seen over $400m (£274m) worth of produce traded and despite a number of teething problems, the exchange looks set to prosper, with nearby countries such as Tanzania and Uganda now considering similar schemes.
Ms Gabre-Madhin acknowledges there have been problems but she would like to see more people joining her in making solutions work, rather than sniping from overseas.
The African brain drain with emigration outstripping immigration may be destined to continue but for those countries which can offer the security and political stability, there is a growing dividend from those who feel they owe something to their former home.