Libya welcomes return of ancient relics from Britain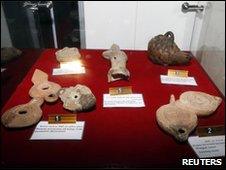 Libya has welcomed the return of a selection of ancient relics, which have been put on display in Tripoli Museum.
The items were taken by two British soldiers in the 1950s, when Libya was a British protectorate.
The items - some of which are up to 2,500 years old - were returned to the land of their origin by the soldiers' families.
Libya sees their return as a significant step in its efforts to piece together its historical legacy.
Items returned include the bronze prow of a Greek ship - a piece found above the waterline at the ship's front that is often presented in films as a figurine.
Juma Anag, the former head of Libya's archaeology department, said the prow was found by the two British soldiers during a diving excursion off the coast of the Libyan city, Benghazi.
Mr Anag, who kick-started the process to have the latest items returned, said one of the soldiers had since died and his colleague seemed to want a clear conscience.
Other objects returned included a Roman terracotta lamp representing the god of wine.
Mr Anag, who now acts as a private archaeological consultant, said Libya was still working to reclaim many of its artefacts from countries including the US and Turkey.
It is believed that various pieces are on display in foreign museums, whilst others are in the hands of private collectors.
Libya has been lobbying for the return of its artefacts for years.
Some were removed from the country as souvenirs during the colonial era and others were later believed to have been stolen by organised crime gangs.
In 2008, Italy handed over a Roman statue to Libyan authorities as a sign of goodwill and improving relations.