Annual board elections in new code for top companies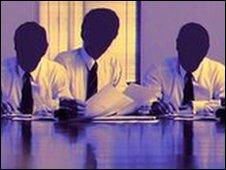 Plans for directors to submit to an annual shareholder vote form part of an overhaul of the code of conduct for the UK's top 350 listed companies.
It is a seen as a way to increase accountability, as directors are currently re-elected every three years.
The Financial Reporting Council's new code will also demand that gender and diversity is explicity considered when new board members are appointed.
At present, a quarter of FTSE 100 companies have no female board members.
A further guideline is to link more closely the pay of top executives with their company's long-term performance.
The guidelines - known as the UK Corporate Governance Code - comes from the Financial Reporting Council (FRC), the country's independent regulator. Its key role is to promote confidence in the way companies listed on the stock market are run.
It enforces its code by a "comply or explain" policy - which means companies either follow it or explain how else they are acting to promote good governance.
Baroness Hogg, the chairman of the FRC, said: "The FRC responded to the financial crisis by examining the questions it raised about corporate governance and thoroughly reviewing the code."
Changes to the code will see board nomination committees asked to consider gender and diversity when hiring to avoid so-called "group think".
It states companies should assess board candidates "with due regard for the benefits of diversity on the board, including gender".
The government welcomed the new rules. Equalities Minister Lynne Featherstone said: "Half of all consumers are female but only 12 per cent of FTSE 100 directors are."
"A more equal workplace is a more successful workplace."
Changes to the code follow extensive consultation, and there has been broad approval for it from business organisations, big business itself, and shareholder groups.
The CBI's director general, Richard Lambert, said: "We welcome most of the measures put forward by the FRC. It has rightly stuck with guiding principles, rather than impose hard-and-fast rules."
It warned though that the target for annual board elections may backfire and promote a focus on short-term results - as well as destabilising boardrooms.
But the Co-operative Asset Management said forcing directors to stand for re-election each year would bring greater accountability to shareholders.
The new edition of the code will apply to financial years, starting after 29 June.
This report comes in the wake of a raft of recommendations made an earlier review by Sir David Walker following the financial crisis.
The FRC is also working on a new Stewardship Code, in response to calls for institutional shareholders to engage better with the companies they invest in.
Listed companies have increasingly found themselves at odds with their shareholders, particularly over executive pay.
The FRC aims to report back with a final code by the end of June.
Related Internet Links
The BBC is not responsible for the content of external sites.