World Cup attacked for 'unhealthy sponsors'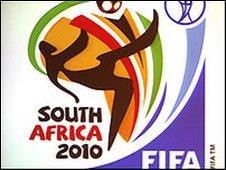 FIFA has scored an "own goal" by agreeing sponsorship deals for the 2010 World Cup with companies that sell unhealthy products, campaigners say.
The World Cancer Research Fund criticised the governing body for partnering with the likes of Coca Cola, McDonald's and Budweiser.
It said the tournament should be an opportunity to promote active lifestyles.
Advertisers denied the deals would negatively impact children's diets.
The three companies are partners or official sponsors for the World Cup giving them a visible presence inside the stadiums on advertising hoardings and digital displays.
And the charity believes that with matches being watched by billions of people in more than 200 countries people across the world will be influenced.
Teresa Nightingale, the charity's general manager, said: "There is no doubt that when it comes to the fight against childhood obesity, football can be a force for good because it is a type of physical activity that is accessible to almost everyone.
"I am sure many children will be inspired by the skills of the likes of Rooney and Messi and try to repeat them in their back gardens and local parks in the same way as their parents and grandparents once tried to emulate Maradona and Pelé."
But she added: "It is disappointing that these companies have been chosen as sponsors and partners.
"The FIFA website describes sponsorship as an opportunity to promote brands on a global basis and we would argue that it is a real own goal to be giving this opportunity to companies that are known for unhealthy products."
She said it was important to be realistic and accept that the existing sponsorship agreements were now in place. But she said it would be a great boost for public health around the world if FIFA could show real leadership on this issue by announcing that it would not consider companies that promote unhealthy products as sponsors or partners in future.
She said that the charity was raising its concerns to make parents aware of the effect of this type of marketing and urged them to stock up on healthy foods, such as fruit and vegetables.
Ian Barber, director of communications at the Advertising Association, said: "When the Government's research suggests that, at most, advertising has a marginal impact on a child's overall diet, these comments risk everyone taking their eye off the ball.
"Without sponsorship, we would have fewer events like the World Cup to inspire young people, not to mention the scores of advertising-funded programmes which aim to keep kids active and healthy.
"If we are serious about improving child health, we need to find more ways to help kids choose the right lifestyle and less time on well-meaning but often poorly evidenced and mis-directed rhetoric."
FIFA said it ran projects using the popularity of football to highlight and tackle urgent global health issues.
Related Internet Links
The BBC is not responsible for the content of external sites.