Harrods threaten legal action over roadside cafe sign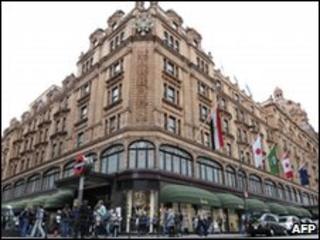 A restaurant owner says he has been threatened with legal action by Harrods because his sign is allegedly too similar to that of the famous store.
Nigel Holland, who runs Hollands Cafe Lounge near Witham, Essex, says the costs of changing the signs and logo could threaten the new business.
Mr Holland said the sign was based on the way his wife signed her name.
He described the demands as "wholly unreasonable" and said he planned to "stick to his guns".
Harrods says it is aware of the issue but has not commented further.
'Public support'
Mr Holland explained that the business is only four months old and said concurring with the demands of Harrods would cost him well over £10,000.
He said they received the letter from Harrods on 15 May, which told him that the sign and logo should be changed by the end of the month.
Mr Holland said: "It is wholly unreasonable. We never intended to upset Harrods."
He denied that the signs were similar and confirmed that they had spoken to their lawyers.
Since his plight became public, Mr Holland said he has received a lot of support for his cause.
"With the amount of support we seem to be having, we are going to stick to our guns," he said.
"Do they have nothing better to do than to try and put us out of business?"