'Sacrificed' Scots soldiers remembered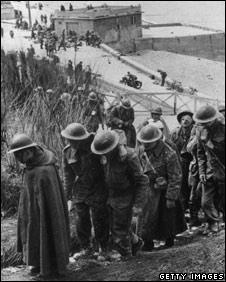 A military historian has recalled the fate of Scottish soldiers "left behind" as hundreds of thousands of Allied troops were evacuated at Dunkirk.
Brigadier Charles S Grant said the 51st Highland Division was put under French command to bolster the country's defence against German forces.
But after days of fighting, about 10,000 members of the division captured at St Valery-en-Caux, on 12 June 1940.
Brig Grant said at the time that the 51st was "unknowingly sacrificed".
He told BBC Radio's Good Morning Scotland programme that, also for the purposes of propaganda and to keep morale high, the British government had not wanted Dunkirk to be seen as a defeat.
A flotilla of 900 naval and civilian craft, under RAF protection, managed to rescue 338,226 people from the French port.
A further 220,000 Allied troops were rescued by British ships from Cherbourg, Saint-Malo, Brest, and Saint-Nazaire, bringing the total of Allied troops evacuated to 558,000.
However, elements of the British Expeditionary Force had remained behind in an attempt to hold back troops led by General Erwin Rommel.
They included the 51st Highland Division and the 1st Royal Scots, a regular battalion that recruited from Edinburgh and the Lothians.
The Royals and soldiers of the 2nd Royal Norfolk were ordered to make a last stand at Le Paradis, close to La Bassée Canal, before being overwhelmed by German army and SS regiments.
Brig Grant, who runs a website dedicated to the 51st Division, said soldiers were left behind to "buy time" for those being evacuated.
He said: "The reason for the 51st Division's sacrifice - though at the time it was an unknowing sacrifice - was that they were trying to help secure the French defence force and the French army which was being over run by Rommel's blitzkrieg."
The retired officer said about one third of the 51st - which had recruited from every community in the Highlands and Islands - managed to get away while trying to secure a point of evacuation for the rest of the division.
He told Good Morning Scotland: "They got out as the German army was crossing the roads behind them."
In some cases, the Scots were minutes from being captured.
Those captured at St Valery were force marched to prisoner of war camps in east Germany and Poland. Some were put to work on farms, while others endured hard labour in salt mines.
Brig Grant said what happened to the division was not widely known at the time, or for many years after the war.
He said: "I think Dunkirk really from the outset had to be portrayed in propaganda as a victory and as a success.
"It was a huge achievement and it captured the nation's imagination."
Related Internet Links
The BBC is not responsible for the content of external sites.