Lloyds raises standard mortgage rate for new borrowers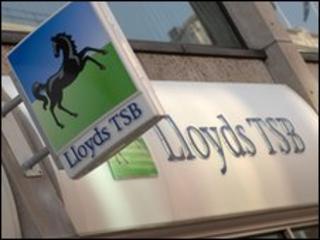 New mortgage borrowers with Lloyds TSB and Cheltenham & Gloucester must pay a much higher standard variable rate when their initial deal expires.
Current borrowers revert to a standard variable rate (SVR) of just 2% above bank rate, so currently paying 2.5%.
But from 1 June, new borrowers, or current ones who switch deals, will have to revert to an SVR without any ceiling, currently set at 3.99%.
The decision does not affect borrowers with Halifax and Bank of Scotland.
HBOS - which includes Halifax and Bank of Scotland - was taken over by Lloyds Banking Group in early 2009.
In a separate decision, the giant Spanish bank Santander is cutting the SVR on offer to new customers of its Alliance & Leicester operation, from 1 June.
Currently their SVR is 4.99%.
But while existing borrowers will stay on that rate, new borrowers will be offered an SVR of bank rate plus 3.74% - in effect 4.24% - which is the same as at the Abbey, also owned by Santander.
Balancing interests
Lloyds acknowledged that it needed to introduce a higher SVR to make more money from its mortgage lending, as the cost of raising mortgage funds had become considerably more expensive and is no longer linked purely to the Bank of England's bank rate.
"It balances the interests of customers with the commercial imperative of managing the business in a sustainable and prudent fashion," Lloyds said.
"The new rate, which reflects the ongoing substantially higher cost of funding, enables the group to continue to offer a competitive and innovative range of products."
Existing borrowers have their SVR, of bank rate plus 0.5%, guaranteed for life but the new SVR will not have a cap or be linked explicitly to bank rate.
Lloyds stressed that no-one one would pay the higher rate until at least June 2012, as that was the earliest that any new deal fixed-rate or tracker-rate deal would expire.
But the rate may go up in the meantime, for instance if a rise in bank rate puts up the general cost of funding mortgages.
Ray Boulger, of mortgage brokers John Charcol, said: "This policy change on SVR exactly mirrors what Nationwide did a year ago, even to the extent of the new rate being set at the same level of 3.99%.
"Nationwide had exactly the same problem as Lloyds TSB in having a contractual commitment in their mortgage offers that its SVR would not exceed 2% above bank rate.
"There was no way out of this commitment and so the only solution for it was to introduce a new SVR for new mortgages," he added.
The Nationwide recently said that its old SVR policy had cost it £450m in foregone income.
In January, the Skipton building society, the UK's fourth largest, told 29,000 borrowers paying its then SVR - 3% above bank rate - that the ceiling would be removed in March.
Henceforth they would be paying 4.95% rather than 3.5%, as would 35,000 other borrowers when their current deals expired.
The Skipton cited "exceptional circumstances", allowed for in its borrowers' contracts.