Diff'rent Strokes star Gary Coleman dies at 42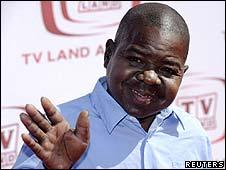 Former Diff'rent Strokes star Gary Coleman has died, aged 42, after suffering a brain haemorrhage.
Mr Coleman was taken to hospital on Wednesday after a fall at his home in the US state of Utah.
A Utah Valley Regional Medical Center spokeswoman said he had died at 1205MDT (1805 GMT).
Mr Coleman played Arnold Jackson in Diff'rent Strokes from 1978 to 1986, coining the catchphrase "What you talking 'bout, Willis?"
The hospital said he suffered the haemorrhage at his home in Utah and been brought in "conscious and lucid".
His manager, John Alcantar, said that contrary to some reports he had not undergone any surgery in recent days.
The former child star suffered kidney disease at early age and has had two failed kidney transplants.
Mr Coleman's family issued a statement on Thursday that said he had slipped into unconsciousness and had been placed on life support.
"At times, it may not have been apparent, but he always has had fond memories of being an entertainer and appreciates his fans for all their support over the years," Mr Alcantar said.
Singer Janet Jackson paid tribute to the former child star on Twitter, saying: "He has left a lasting legacy. I know he is finally at peace."
The actor had a series of financial and legal problems in recent years, but in the early 1980s Mr Coleman was one of television's most promising stars.
Mr Coleman's funny one-liners, which were usually aimed at his brother in the show, catapulted him to fame and helped make Diff'rent Strokes an NBC mainstay from 1978 until the show's final episode in 1985.
Following the show's cancellation, Mr Coleman experienced a range of ups and downs.
Mr Coleman never grew taller than 4 ft 8 in (1.4m) because of nephritis, a kidney condition, and his height soon became the focus of jokes in the media.
He sued his parents over mismanagement, which won him a $1.3m (£900,000) settlement in 1993, only to file for bankruptcy six years later.
Mr Coleman also appeared on TV court shows several times, was charged with reckless driving, was cited for disorderly conduct, and had a brief run for governor of California in 2003.
Related Internet Links
The BBC is not responsible for the content of external sites.