Losing candidate challenges Oldham election result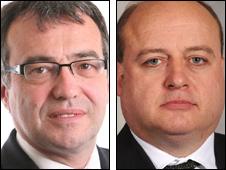 An election candidate who lost out to former Labour minister Phil Woolas by 103 votes is challenging the result.
Liberal Democrat Elwyn Watkins came second in Oldham East and Saddleworth on 7 May following two recounts.
But he claims Labour leaflets contained misleading claims about his reputation and campaign and has begun a High Court bid to have the result quashed.
Mr Woolas, the former immigration minister, is yet to comment on the legal challenge.
Mr Watkins has submitted his petition for a hearing of an election court, based on an alleged breach of the Representation of the People Act (1983).
The act contains rules governing the conduct of election candidates and campaigns.
Mr Watkins claims that Labour campaign literature, published and distributed he says with the consent of Mr Woolas, constitutes a breach of the act.
He said it was clear that some literature "contained numerous misleading and erroneous claims regarding my personal character and reputation, and that of my campaign".
Under the act, anyone involved in an election campaign who "makes or publishes any false statement of fact in relation to the candidate's personal character or conduct" is guilty of an illegal practice.
Mr Watkins' complaints centre on an edition of The Examiner newspaper, an edition of the Labour Rose, and an election communication leaflet.
His said his case would focus on three areas: claims that he did do not live in the constituency, stories about him "wooing" Muslim extremists and an article regarding campaign financing.
Related Internet Links
The BBC is not responsible for the content of external sites.