New perspective on world at Planet Earth Festival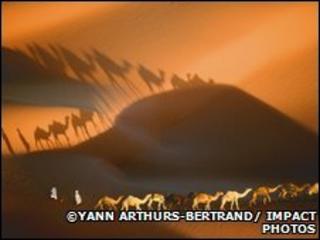 Visitors to Armagh will soon be able to see the world from an entirely new perspective.
Armagh's Planet Earth Festival which begins on Saturday, includes the Earth from the Air outdoor photography exhibition.
This collection of large photographs is visiting the island of Ireland for the first time after a world tour, including locations such as Paris, Sydney and Singapore.
The images were taken by celebrated French photographer, Yann Arthus-Bertrand and explore the impact man has had on the environment.
The exhibition is just one part of the Planet Art Festival which aims to encourage environmental behaviour and to promote Armagh as an eco-conscious place.
Up to 100,000 visitors are expected to attend.
The festival opens on Saturday with the Planet Earth Picnic.
Visitors will be invited to walk around the whole world on a giant floor map and to play games like chess and snakes and ladders on large outdoor boards.
Other activities include dance workshops, a samba-led carnival, stilt walkers, and a smoothie-maker bicycle.
The festival runs from June to August and over the three months there will be dance and sports events in Armagh's Mall and Market Square every weekend, and special workshops and programmes run by the Market Place Theatre and the Navan Centre.
Highlights include the celebration of the summer solstice at the Navan Centre from Saturday 19 - Monday 21 June, where Iron Age characters will gather crops, keep the sacred fires burning and exchange stories.
Visitors to all festival events will be encouraged to pledge their commitment to reduce, reuse, recycle and think about the products they consume.