Will Central Asia's oil and gas go east or west?
By John Roberts
Energy security specialist, Platts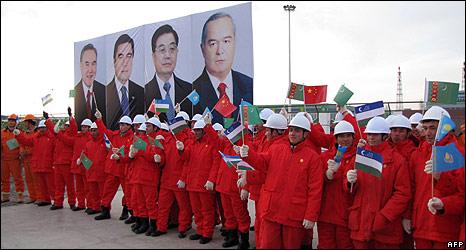 Central Asia plays a critical role in global energy security because it possesses large volumes of oil and gas - and because the bulk of its resources are available to international companies to develop.
The region contains giant fields such as Kashagan in Kazakhstan - the world's largest offshore oilfield - and South Yoloten in Turkmenistan, one of the world's top three gas fields.
It is connected by pipelines in every direction and, despite a major move by China to develop both oil and gas pipelines to the east, the bulk of its resources continue to flow west.
While China constitutes a new opportunity for the landlocked countries of Central Asia, they will continue to play a major role in European energy affairs for decades to come.
The biggest problem faced by Central Asian producers - and the same is true for Azerbaijan, on the other side of the Caspian Sea - is transforming their resources into actual output and then finding a way of delivering it.
They generally rely on international companies to provide export routes that enable them to access international markets - unless they want to pay a high price to use Soviet-era transit systems through Russia. But they are not always easy partners for these companies to deal with.
Thus Turkmenistan, which wants to retain full control of its major onshore projects, remains reluctant to allow international companies to secure anything more than service contracts onshore, although it encourages production sharing agreements offshore.
In Kazakhstan, the government appears to be pursuing a form of resource nationalism that sometimes involves retrospective legislation concerning major projects. This threatens the country's reputation as a reliable investment partner.
The prime focus in Kazakhstan is mainly on working out how to carry as much as 1.5m barrels a day (b/d) - that is 210,084 tonnes - from Kashagan to market after the field comes on line in 2012-13.
That is equivalent to around 3% of all the oil traded across the world's borders. Most of it will flow west, either through the existing CPC pipeline to the Russian Black Sea port of Novorossiysk or across the Caspian and then into the existing BTC line, which reaches open water at the Turkish Mediterranean port of Ceyhan.
The three Caspian republics of Azerbaijan, Kazakhstan and Turkmenistan hold close to 50bn barrels (7bn tonnes) of crude oil, around 3.5% of the world's proven reserves. They also have some 12.5 trillion cubic metres (tcm) of gas, around 6.8% of world reserves.
Some Kazakh crude has already started to head to China, but even when the China line reaches its full capacity of around 400,000 b/d - expected in three or four years' time - this will still only amount to around one-third of the volume of exports heading west.
Where China is making great strides is in Turkmenistan. In just two-and-a half-years the China National Petroleum Corporation (CNPC) built the 2,200km (1,364-mile) Central Asia Gas Pipeline from its Bagtiyyarlik concession in north Turkmenistan, across Uzbekistan and Kazakhstan, and into Chinese Xinjiang.
At present, only a trickle of gas flows along the line, but by 2014, if all goes well at the production end, it should be carrying some 40 billion cubic metres (bcm) a year.
CNPC is also helping develop the South Yoloten field, which the UK's Gaffney, Cline & Associates considers to hold at least 4 tcm of gas and possibly as much as 14 tcm. This makes it one of the world's largest fields, and theoretically makes it feasible for Turkmenistan to fulfil a raft of commitments to supply gas not only to China but to Russia, Iran and even the European Union.
Turkmenistan would still have enough left over to supply India and Pakistan too - should Afghanistan ever become sufficiently stable to allow for construction of a gas pipeline to South Asia.
The problem is that Turkmenistan lacks the cash to fulfil its plan to raise output from around 40 bcm in 2009 to 250 bcm in 2030. Yet it remains profoundly nervous about allowing foreigners to take direct stakes in such giants as South Yoloten.
At present, Turkmen gas flows in relatively limited quantities to Russia, China and Iran, not least because past disputes with Moscow and Tehran have halted gas flows, so that the existing pipelines are nowhere near filled to capacity.
That is one of the reasons why Turkmenistan would like to export gas to an open market, such as the EU. Here its fate is bound up with that of Azerbaijan - itself a problem because Baku and Ashgabat remain at odds over their maritime boundary in the Caspian.
In Azerbaijan, BP played a dominant role in developing both the giant offshore 1m b/d Azeri-Chirag-Guneshli oilfield and the 1.2 tcm gas reserves in the neighbouring Shah Deniz field.
The focus is now on gas. Azerbaijan has considerable gas reserves and wants to get them to an open commercial market.
At the same time, while Europe currently has a gas glut, it is expected that in five or six years' time more gas will be needed, both to fuel the new generation of power plants currently being built or ordered and to serve either as a backup supply or an interim resource while renewables are developed.
Shale gas - a big new resource in North America - is not likely to impact directly on European production until the 2020s, though it is likely to start changing perceptions well before then.
Azerbaijan has just concluded the key elements of a deal that will enable it to sell gas from the giant 20bn-euro (£17bn; $25bn) second stage of its Shah Deniz project to European customers, via Turkey.
The agreement opens the way for a major competition between various pipeline projects to carry that gas to market. The front-runners are the Nabucco project between Turkey and Austria and two different pipeline projects that would connect Turkey, Greece and Italy.
The EU is playing an active role in these issues. Politically its diplomats are active in trying to ensure the security of the three South Caucasus republics of Azerbaijan, Georgia and Armenia, not least because the EU wants to ensure the safety of the "Southern Corridor" pipelines flowing from Azerbaijan to Georgia and to ensure there is no repetition of the Russian-Georgian war of 2008.
The EU is also pushing to see whether gas from Turkmenistan might join gas from Azerbaijan and northern Iraq in supplying Nabucco and its rivals, raising the possibility that more than one of these lines might be available to supply gas to Europe in 2016.
That is the crucial year in which Shah Deniz Stage Two comes on stream and around the time that Europe is likely to require additional imports.
Related Internet Links
The BBC is not responsible for the content of external sites.