What does academy freedom mean?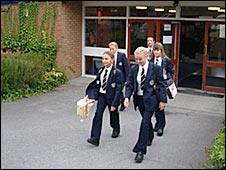 Academy status is "a state of mind more than anything else".
That is the view of the former Schools Commissioner, Sir Bruce Liddington, who heads EACT, which sponsors eight academies with more in the pipeline.
He was trying to answer my question: "what exactly makes an academy different?"
As we could be about to see academies in England leap from just over 200 now to well over 2,000 in a few years, it is a key issue.
Professor Chris Husbands of the Institute of Education says that it could be "the most significant change in the school system for 45 years".
Yet others, such as Liz Reid, chief executive of the Specialist Schools and Academies Trust, characterise the change as "more evolution than revolution".
So what is the reality behind the rhetoric of academies?
Perhaps the most misleading, and frequently repeated, claim is that becoming an academy allows schools to "escape local authority control".
This is ridiculous because local councils no longer have "control" of schools.
Successive reforms over the past two decades have given all schools much greater autonomy.
Town halls no longer determine how schools spend their money, what or how they teach, or how they are held accountable.
Schools are constrained in many ways.
But these constraints come from national government or national bodies, be it the national curriculum, national tests, Ofsted, or government legislation on issues such as safeguarding or Every Child Matters.
Local education authorities are a pale shadow of their former selves.
Their last remaining influence is in the provision of school places, organisation of the school admissions process, and as the stretcher-bearers when schools fail.
That is not to say they do not do important work.
They provide vital services such as educational psychologists and special educational need support and more humdrum, but essential, functions such as payroll management and legal advice.
Even head teachers who have little time for their local authorities would laugh at the idea that they are controlled by them.
So what are the essential freedoms that academy status brings?
They are relatively few and, if the coalition government is true to its word, the differences between mainstream schools and academies will soon be even smaller.
The list of freedoms gained through academy status includes: freedom to adapt the national curriculum, to vary teachers' pay and conditions, and to vary the length of the school day/week/year.
And….well, that's about it.
Since the government has promised to give all schools greater curriculum freedom and to end national arrangements for pay and conditions the "freedom premium" for academies will soon be greatly reduced.
So why else would schools want to become academies?
There are three reasons: status, money, and what Sir Bruce Liddington's calls "state of mind".
The first of these - status - is problematic.
Giving all "outstanding" schools a free pass to academy status is a clever move. It equates academies with quality.
This is a key change: remember that until now academies have been the response to school failure, not to success.
The real successes of the academies programme have been where poor schools in deprived neighbourhoods have been replaced by stunning new buildings, enthusiastic new staff, and a fresh start with high aspirations for all children.
Since the new academies will already be successful schools, this will no longer be the characteristic of academies.
Moreover, it is now clear that academy status in itself is no protection from school failure. Several academies have been judged "inadequate" by Ofsted.
In this respect, the indication from the Education Secretary, Michael Gove, that "outstanding" schools will no longer have to undergo Ofsted inspection is a hostage to fortune.
It is the second reason - money - that will drive most schools to become academies.
Incidentally, it was just the same with the grant maintained schools policy of the last Conservative government.
A few enthusiasts left local council control because they really wanted to; the rest followed the money.
As with grant maintained schools, academy status brings a cash uplift of 10% or more.
This is the money otherwise held back by town halls for central education services. For a large secondary school that could be £400,000 a year.
Many heads believe they can make better use of that money themselves, even though they may continue to purchase some services from the local authority.
At a time of financial austerity (and in terms of education spending cuts we have not seen anything yet) the lure of extra cash is powerful.
So, finally, what about the notion that academy status is about "a state of mind"?
In the early days of academies, under Tony Blair's government, the new schools were strikingly different and innovative.
It was not just the imaginative, state-of-the-art buildings but the whole approach to teaching and learning that was new.
However, more recent academies have been less innovative and there is no requirement for already "outstanding" schools to demonstrate innovation.
In this respect, the academies programme is about to become less, not more, radical.
Instead of being hothouses of experimentation, academies will become mainstream.
In that sense this change is just another stage in the evolutionary process that began with City Technology Colleges, Grant Maintained Schools and Specialist Schools.
However, there are two important areas of concern.
First, going it alone without local authority support will be a big departure for many schools, especially primaries and special schools.
As David Rawlinson of the education law firm Halliwells has warned, setting up an academy normally requires years of planning and preparation. If they take the fast-track route offered by the government, schools could be replacing "one set of red tape with another".
However, more and more schools, including primaries, are now part of federations or groups. These will find academy status easier to handle than stand-alone schools.
So the big change ahead may, I suspect, be less about the creation of more academies and more about the start of an era of large chains of schools run by academy sponsors or education management firms.
The other concern is that local education authorities will be left without the capacity to intervene when cracks appear in local school provision.
If that happens, it may have to be the new school chain managers and sponsors that will have to step into the local authority's shoes.
But unlike local councils, they cannot be turfed out by parents and local voters.
The real test of the new system will be when an area finds itself with either too many or too few school places or where formerly "outstanding" schools start to drop from their high standards.
At present town halls and Ofsted can step in if these circumstances arise - but will they still be able to in the future?
Mike Baker is a journalist and broadcaster
Related Internet Links
The BBC is not responsible for the content of external sites.