Kidnapped by gunmen in Iraq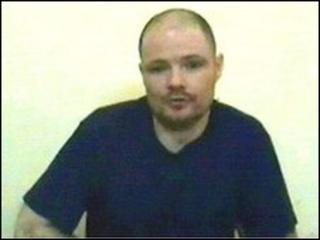 Iraqi gunmen abducted five men including security guard Alan McMenemy, from Glasgow, exactly three years ago.
Only one of the men has been released alive, while the bodies of three others have been returned to Britain.
Mr McMenemy is now the only hostage still missing, his wife Rosaleen McMenemy has appealed to his kidnappers to show "mercy and compassion" and end her ordeal on the anniversary of his abduction.
The four security guards were working in Iraq for the private security firm Gardaworld as they escorted a British IT specialist working in the Iraqi Finance Ministry.
Suddenly, with no warning, they found themselves surrounded and overpowered by dozens of armed men wearing Iraqi police uniforms.
Stripped
They were bundled into vans in broad daylight then driven off to a Shia district of Baghdad where they were made to stand in a street and remove all but their underpants.
Their kidnappers were taking no chances in case any of the men was carrying a tracking transmitter sewn into their clothing.
When the kidnappers made contact with the British Embassy through intermediaries they made it clear they were demanding the release of several fellow Shia militiamen being held by the US military in a detention facility.
It has never been clearly established whether the kidnappers thought they were seizing Americans, or if they thought the British government would pressure the US military into trading prisoners.
But unlike several European nations, Britain has a longstanding policy of not making or facilitating "substantive concessions" to kidnappers.
Senior Foreign Office officials have said that if Britain gave in to such demands it would make Britons more vulnerable in the long term.
By the time the US began releasing the key militants from custody in June 2009 as part of Iraq's political reconciliation process some, if not all, the four British bodyguards were already dead, murdered by their captors.
The kidnappers, an obscure militia group calling themselves the Bands of the Righteous, then handed over the remains of three of the men: Jason Swindlehurst, Jason Creswell and Alec Maclachlan.
Anguish
To many people's amazement they also released Peter Moore alive on 30 December 2009. The foreign secretary at the time, David Miliband, acknowledged how tough this would be for Mr McMenemy's family.
Mr Miliband said at the time: "I think it's also important that I say that I'm very conscious today that the joy that will be felt by Peter's family will be mirrored by the anguish of the family of Alan McMenemy, the last of the five men to be taken hostage.
"We have believed for some time that he has been killed and his family have been told of our view of his likely fate."
That fate, according to Peter Moore who shared a cell with Mr McMenemy, is that his guards murdered him long ago in a panic, when they wrongly thought he was about to be rescued.
The Foreign Office view is that when the kidnappers have previously said a hostage was dead they have been telling the truth, and the kidnappers say Alan is dead. But Roseleen told me her life is on hold until she sees proof.
"His body hasn't been returned to us; I can't begin to grieve.
"I still have a faint glimmer of hope as there's no proof to confirm that he's died that there's still a possibility that he may still be alive."