Colombians vote for President Alvaro Uribe successor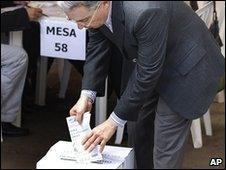 Polling has ended in Colombia's presidential election, where voters have been choosing a successor to the popular incumbent, Alvaro Uribe.
Ex-Defence Minister Juan Manuel Santos, supported by Mr Uribe, had a slight lead in pre-election opinion polls over former Bogota Mayor Antanas Mockus.
Mr Santos has campaigned on the back of successes in tackling guerrillas; Mr Mockus on ending corruption.
Analysts predict a close race, and a run-off vote on 20 June is likely.
The other main candidates are Noemi Sanin, of the Conservative Party, Gustavo Petro of the Polo Democratico, German Vargas Lleras of the Radical Change party and Rafael Pardo of the Liberal party.
Mr Uribe still has approval ratings of 60% after almost eight years in power.
Analysts say this is largely due to his hard-line, US-backed security policies that have curbed guerrilla activities and reduced drugs crime.
Although this has given Mr Santos the edge, the reduction in violence in Bogota has also boosted Mr Mockus, of the Green Party.
He is seen as having improved the quality of life for citizens in the capital, with public works projects.
His supporters point to his economic record, while his critics say he is too inexperienced to run the country, in particular in maintaining the pressure on the left-wing rebels.
Mr Santos's supporters point to the successful tough line he took against the rebels.
The BBC's Jeremy McDermott in Colombia says that given the closeness of the opinion polls, it seems Colombians favour both change and continuity.
He says Mr Santos comes from unrivalled political stock and has a long and exceptional record in public office.
But Mr Mockus has promised to break with past political corruption and that idea is intoxicating for many Colombians tired of scandals, our correspondent adds.
Related Internet Links
The BBC is not responsible for the content of external sites.