Many killed in Indian bus crash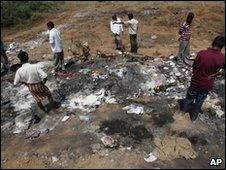 At least 30 people have been killed and about 30 others injured in a bus crash in southern India, media reports say.
The bus is reported to have ploughed into a police roadblock before overturning. Its fuel tank burst into flames, engulfing the passengers.
Some of the dead are reported to be children. The crash occurred near the town of Chitradurga in the state of Karnataka.
The vehicle was travelling to the state capital, Bangalore.