Great Train Robber Biggs has more tests in hospital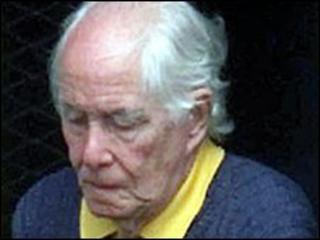 Great Train Robber Ronnie Biggs is due to have further medical tests after being admitted to hospital in London complaining of chest pain.
Biggs, 80, underwent tests at Barnet General Hospital on Saturday and remained in hospital overnight.
He is expected to have a CT scan on Sunday and awaits the results of other tests, his son Michael said.
Biggs was released from prison on compassionate grounds in 2009 because of health problems.
He has been living in a care home in Barnet.
His son Michael said he expected to find out more from the hospital on Sunday afternoon.
Speaking from the hospital on Saturday, Michael Biggs said: "We still don't know what's wrong with him and we are waiting to see the surgeons to find out what the tests uncovered."
Originally from Lambeth, south London, Biggs was among a 15-strong gang which attacked the Glasgow to London mail train at Ledburn, Buckinghamshire, in August 1963, making off with £2.6m.
The train's driver, Jack Mills, suffered head injuries during the robbery and never returned to work. He died in 1970.
Biggs was given a 30-year sentence, but escaped after 15 months and went on the run for more than 30 years, living in Australia and Brazil.
He returned to the UK voluntarily in 2001 in search of medical treatment.