Michael Moore named new Scottish Secretary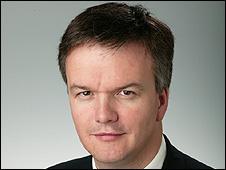 Michael Moore, the Scottish Liberal Democrat deputy leader, has been named the new Secretary of State for Scotland.
He has taken the role from Danny Alexander, who was promoted to chief secretary to the Treasury after David Laws' resignation.
Mr Laws resigned after claiming expenses to pay rent to his partner.
Meanwhile, Scottish Lib Dem leader Tavish Scott said new powers for Holyrood could go further than planned.
Mr Alexander, MP for Inverness, Nairn, Badenoch and Strathspey, has moved to his second Cabinet post in a matter of weeks as a result of the row surrounding Mr Laws.
Since 2006, parliamentary rules have banned MPs from "leasing accommodation from a partner".
But Saturday's Daily Telegraph revealed that between 2004 and 2007, Mr Laws claimed between £700 and £950 a month to sub-let a room in a flat in Kennington, south London, from his long-term partner, lobbyist James Lundie.
Mr Laws said he had wanted to keep his relationship with Mr Lundie private and also queried whether Mr Lundie counted as a "partner" as defined by the rules.
Mr Moore, MP for Berwickshire, Roxburgh and Selkirk, has been an MP since 1997, after having worked as a researcher for party veteran Sir David Steel.
The former chartered accountant has held a series of senior roles in the party, serving as a spokesman on foreign affairs, transport, defence and international development.
He said: "I am very happy to have been appointed although I obviously wish it had happened under different circumstances.
"David Laws remains an important colleague of mine and I hope to see him return to government before long."
Mr Moore said he was looking forward to the challenges ahead and pledged to uphold the respect agenda of the new coalition government.
He said: "As secretary of state I want to hear the concerns of Scots across the country and I look forward to getting on with the job."
Speaking on BBC Scotland's Politics Show, Mr Scott welcomed his deputy's government appointment, and used the opportunity to call for the implementation of new powers for the Scottish Parliament beyond those outlined in the Calman Commission, which he described as "Calman plus."
The commission's recommendations, which Prime Minister David Cameron has pledged to implement, included new Holyrood responsibility for raising half of Scotland's income tax.
Mr Scott said he was committed to seeing the proposals implemented, but added: "I want to make sure we garner the most sensible and constructive form of additional powers that Scotland's parliament needs.
"We've all argued, I think, across the parties, that our parliament must be responsible for both sides of the balance sheet - both income and expenditure - making sure MSPs are accountable for their spending decisions as well as for how the money is raised."
Scottish minister Stewart Stevenson also suggested his government was ready to sit down with its UK counterparts to implement the Calman recommendations.
The transport minister said the SNP - which has called for full fiscal responsibility for Scotland - was still committed to an independence referendum, but added: "Sitting down with other parties is a natural part of minority government, its something we do all the time."
He told BBC Scotland: "It is very important we engage with the UK government when there is an opportunity to advance Scotland's cause, get more fiscal responsibility."
Related Internet Links
The BBC is not responsible for the content of external sites.