Aberdeen records drop in violent crime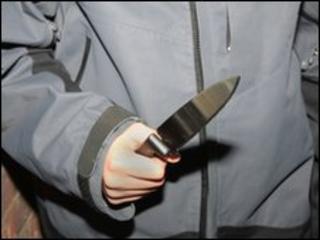 The number of violent crimes reported in Aberdeen has fallen over the past five years, according to figures released by Grampian Police.
The force also said its detection rate in the city had risen by nearly 20% over the same period.
The figures for Aberdeen division showed there were 448 violent crimes in 2005-06 compared with 366 in 2009-10.
Violent crime includes murders, attempted murders and serious assaults, as well as rape and attempted rape.
Grampian Police said the number of detected assaults and robberies and assaults with intent to rob in the city centre had almost halved, while detection rates improved by almost 50%.
Overall, the detection rate in Aberdeen currently stands at 73.2% compared with 55.4% five years ago.
All of the city's murder cases have been solved over the past five years.
Supt Mark Cooper said the figures showed that Aberdeen and its city centre remained safe places to visit, and were getting safer.
'Criminal behaviour'
He said: "This is a tribute to the hard work carried out, not only by our officers in the city centre unit and across the division, but our partners in the licensed trade and the local authority.
"We hope our new local policing teams, supported by CID officers from the major incident teams, will help us improve these figures even further.
"We are not complacent and we will continue to work hard to combat criminal behaviour across the spectrum in the city."
A total of 25 people have been banned from Aberdeen nightclubs for up to two years through the Unight scheme, which targets violence and drugs taking in licensed premises.
Unight chairman Mark Donlevy, of Liquid nightclub, said: "The latest police figures are good for the city and good for business. Most of the bans we have imposed are for drugs - we banned M-Cat even before it was illegal and that was very well received.
"We want to play our part in making Aberdeen a safe and welcoming place to be. We have noticed that people are far more reluctant to escalate trouble if they know they could face a ban."