Reaction to Gaza aid ship deaths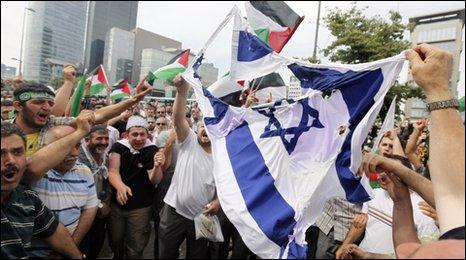 A number of people have been killed as Israeli forces intercepted a convoy of ships carrying humanitarian aid to the Gaza Strip.
A Turkish vessel leading the flotilla was among those raided. There has been widespread reaction to the incident.
ABDULLAH GUL, TURKISH PRESIDENT
I strongly condemn Israeli navy's using force against an aid convoy, including members of non-governmental organisations from 32 countries.
The international community should not remain indifferent in the face of this attack in the international waters, some 69 nautical miles from Israeli territorial waters which targeted civilians including women, children, the elderly and religious officials from different faiths. It was a violation of the international laws.
It is impossible to accept ignorance of lives of defenceless civilians who were trying to take humanitarian aid to Gazan people. Israel isolates its people with such policies. I wish that Israeli politicians and state will put an end to this situation.
Turkey requests opening of every kind of investigation into the incident. We also request Israel to bring those who are responsible to justice.
BAN KI-MOON, UN SECRETARY-GENERAL
I am shocked by reports of killings and injuries of people on boats carrying supplies for Gaza. I condemn this violence.
It is vital that there is a full investigation to determine exactly how this bloodshed took place. I believe Israel must urgently provide a full explanation.
WHITE HOUSE SPOKESMAN WILLIAM BURTON
The United States deeply regrets the loss of life and injuries sustained, and is currently working to understand the circumstances surrounding this tragedy.
OFFICE OF BARONESS ASHTON, EU HIGH REPRESENTATIVE FOR FOREIGN AFFAIRS
High Representative Catherine Ashton expresses her deep regret at the news of loss of life and violence and extends her sympathies to families of the dead and wounded. On behalf of the European Union, she demands a full inquiry about the circumstances in which this happened.
She reiterates the European Union's position regarding Gaza - the continued policy of closure is unacceptable and politically counterproductive... She calls for an immediate, sustained and unconditional opening of the crossing for the flow of humanitarian aid, commercial goods and persons to and from Gaza.
AMR MOUSSA, ARAB LEAGUE SECRETARY-GENERAL
The Arab League's Secretary-General has called for an urgent meeting at the level of representatives to look into this heinous crime committed by Israeli forces against unarmed civilians that left scores of dead and wounded.
The Arab League strongly condemns this terrorist act.
OFFICE OF NICOLAS SARKOZY, FRENCH PRESIDENT
The president of the Republic expresses his profound emotion in the face of the tragic consequences of the Israeli military operation. He condemns the disproportionate use of force and addresses his condolences to the families of the victims.
WILLIAM HAGUE, UK FOREIGN SECRETARY
I deplore the loss of life during the interception of the Gaza flotilla.
We have consistently advised against attempting to access Gaza in this way, because of the risks involved. But at the same time, there is a clear need for Israel to act with restraint and in line with international obligations.
This news underlines the need to lift the restrictions on access to Gaza.
MAHMOUD AHMADINEJAD, IRANIAN PRESIDENT
The inhuman action of the Zionist regime against the Palestinian people and preventing the humanitarian aid from reaching Gazans does not show this regime's strength, but is a sign of its weakness, and all this brings this sinister and fake regime closer than ever to its end.
TONY BLAIR, MIDDLE EAST ENVOY FOR THE INTERNATIONAL QUARTET
I express deep regret and shock at the tragic loss of life. There obviously has to be a full investigation into what has happened.
MARK REGEV, ISRAELI PRIME MINISTER'S SPOKESMAN
Though our naval servicemen were instructed to exercise maximum restraint, they were attacked. They were attacked with knives, with iron clubs, and also with live fire.
We have unfortunately 10 servicemen injured, one of them very, very seriously. The violence was initiated unfortunately by these activists, and this is regrettable.
GRETA BERLIN, FREE GAZA MOVEMENT SPOKESWOMAN
It's disgusting that they have come on board and attacked civilians. We are civilians.
How could the Israeli military attack civilians like this? Do they think that because they can attack Palestinians indiscriminately they can attack anyone?
MAHMOUD ABBAS, PRESIDENT OF THE PALESTINIAN AUTHORITY
What Israel has committed on board the freedom flotilla was a massacre.
SAMI ABU ZUHRI, HAMAS SPOKESMAN
We in Hamas consider the Israeli attack on the freedom flotilla as a great crime and a huge violation of international law. In spite of the great harm suffered by the people who joined this flotilla, we consider that their message has been delivered.
Thanks to these heroes from other countries who showed their solidarity with Gaza, the Israeli siege is now an international issue and we consider that the occupiers, through this crime, are the ones under siege now.
Related Internet Links
The BBC is not responsible for the content of external sites.