Colombians vote for 'safe pair of hands' as president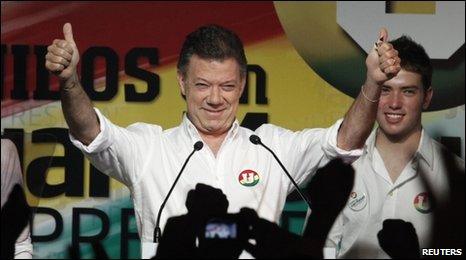 In the end, it seems Colombians were more comfortable with continuity than change when they cast their votes in Sunday's presidential election.
Juan Manuel Santos, the former defence minister who helped to implement President Alvaro Uribe's hard-line, US-backed security policies, scored a decisive win with nearly 47% of the vote.
"I must confess that I am very excited and I receive these results with humility," said Mr Santos. "Today Colombia won, today democracy won."
But Mr Santos's win was just short of the outright majority needed to prevent the contest going to a second round on 20 June.
Up against him will be Antanas Mockus of the Green Party, who took just 21%, far below what the opinion polls had suggested a week ago when they placed him neck-and-neck with Mr Santos.
His proposals to clean up politics and do away with the corruption that has dogged the last years of Mr Uribe's administration were embraced by many Colombians.
But when it came down to marking the ballot paper, most opted for the safe pair of hands that Mr Santos represents.
Mr Mockus, 58, was beaten but not bowed.
"We have achieved a goal that seemed difficult to reach: to get to the second round," he said to crowds of supporters wearing the party's green T-shirts. "More than three million citizens have joined what has become a green wave of hope."
In third place, with 10%, was another pro-government and pro-Uribe candidate, German Vargas Lleras, who will almost certainly negotiate a deal with Mr Santos.
This means that, combined with the votes gathered by the Conservative Party, another part of the Uribe coalition, Mr Santos could win 60% in June's run-off contest.
"There is such a great difference in votes between Santos and Mockus that, barring a political earthquake, the gap cannot be closed," said political and security analyst Roman Ortiz.
The day of voting itself passed without any serious attacks by the Marxist rebels who have been fighting for 46 years to overthrow the state and install a socialist regime.
Sources from the Revolutionary Armed Forces of Colombia (Farc) told the BBC that any large-scale actions by the guerrillas could play into the hands of Mr Santos.
He has vowed to continue Mr Uribe's Democratic Security Policy, the foundation of the president's still high approval ratings and the principal platform of Mr Santos' campaign.
During Sunday's vote, the security forces disarmed seven explosive devices and dealt with four rebel attacks, which claimed the lives of at least one soldier. But this was a quiet day compared with previous elections.
Interior Minister Fabio Valencia Cossio said that it had been the calmest day of voting in 40 years.
"It is a total success for public order," Mr Valencia Cossio said. "There was a reduction of 78% in violent acts."
Turnout, however, was disappointing, despite the excitement generated by the campaign and just 50% of the 30 million Colombians eligible to vote marked their ballot papers.
The fact that Mr Santos is almost assured of victory next month will not be welcome news in neighbouring Venezuela or Ecuador, who have long had strained ties with Colombia.
Venezuelan President Hugo Chavez has branded Mr Santos "a threat to the entire region". An Ecuadorean court has indicted Mr Santos to stand trial for the bombardment of a Farc camp 2km within Ecuador in March 2008. In the raid, 26 alleged rebels were killed, among them an Ecuadorean citizen.
Standing outside the polling booths in the Bogota neighbourhood of Chapinero, Martha Solano looked pensive after casting her vote.
"Up until a few days ago I had thought I was going to vote for Mockus, as I like him and I think he is an honest politician and we have few enough of those," she explained.
"But voting for him is a leap of faith and I decided better the devil you know and ticked the Santos box."
Related Internet Links
The BBC is not responsible for the content of external sites.