Irish bishop in Nigeria resigns after scandal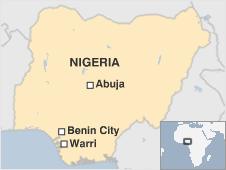 The Vatican has accepted the resignation of an Irish archbishop in Nigeria accused of sexually abusing a teenage girl in the Niger Delta.
Richard Burke, the archbishop of Benin City, admits to a relationship but denies she was a minor when it began.
"The reason for my resignation is that I have been unfaithful to my oath of celibacy," he said in a statement in the Irish Catholic newspaper.
The archbishop stepped down after the allegation was made last year.
Dolores Atwood alleged she was sexually abused by the Archbishop Burke when he was a priest in Warri in Nigeria's southern Niger Delta region.
However, he said the relationship began in 1989 when she was 21 and he was 40.
"I responded immediately that I have never, ever, in my life - in any way - sexually abused a child. This is still my position. It is the truth," he said in his statement.
Archbishop Burke also apologised to Ms Atwood and asked forgiveness from his missions in Warri and Benin.
The Vatican said it had accepted his resignation as it also named a panel to look into the issue of child abuse in Ireland by Roman Catholic clerics.
Related Internet Links
The BBC is not responsible for the content of external sites.